As a result of the pandemic, young learners are entering our schools having had fewer opportunities to socialize with peers, develop agency, and grow fundamental numeracy, early language, and literacy skills. To ensure these students are ready to actively engage in learning, education leaders must think beyond helping kids prepare for school, by helping schools prepare for kids. In this session, Akimi Gibson from Sesame Workshop explored the research behind playful learning experiences used to scale equitable access to whole-child growth and ensure all kids grow smarter, stronger and kinder.
How did Sesame Workshop begin?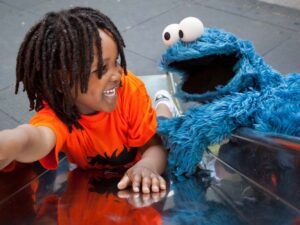 Initial research in early learning education revealed that there is a hidden curriculum behind the usual ABCs and 123s. Children merely seeing themselves represented made a big difference. In 1969, the founders understood this as well as they set out to answer a bold question: could television be used to educate kids and prepare disadvantaged children for school? The answer became the longest-running children's television show, Sesame Street, that gives all children the opportunity to see themselves represented, while also focusing on the fundamentals.
"We are entering our 53rd year of this vast experiment." explained Akimi Gibson. "And every year we learn something new. The ABCs and 123s don't change, but how children engage around them and understand these concepts does." Sesame Workshop recognizes the importance of connecting with schools and districts to inform how they continue this experiment and uphold their legacy of research-based, science-based.
Research-Based, Whole-Child Approach
Today, there are over 1000 independent studies completed on Sesame and its effect on student success. "Everything is research-based." outlined Akimi. In fact, all media created by Sesame Workshop goes through a comprehensive cycle of assessment and evaluation. "There are long-term, formative assessments for everything we create." stated Akimi. "Then we go into the distribution phase, where we decide when and where the media is released." Lastly, Sesame Workshop conducts a summative evaluation to determine the media's affects on early learning and whole-child development.
While, Sesame believes in a whole-child approach, it also believes in a dual-generational effect as well. As Akimi explained, "We are working with children because of their grownups. We facilitate the connection between teachers and families and meeting the children where they are, at home, in communities, and in schools." In fact, the dual-generational effect is driving Sesame Workshop's latest identify study, which Akimi Gibson went into detail to explain: 
"We are now researching mental wellness for children to facilitate the 'just right fit' between the educator and the family, for the benefit of the child. Because both the educator and the family are critical to the success of the child, and therefore should be working together on behalf of the child."
Lastly, Akimi touched upon the importance of embedding professional learning, teacher knowledge, and growth into the curriculum itself to effectively implement a while-child approach to early learning. At the end of the day, teachers must feel supported and empowered to successfully prepare their youngest learners for success