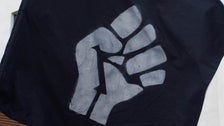 Black college students in Denver are suing the school district, stating it is making an attempt to "steal" their podcast identify "Know Justice, Know Peace."
The lawsuit suggests the learners, who established the racial justice podcast "Know Justice, Know Peace" next George Floyd's murder in 2020, created "an fast hit" that acquired the awareness of media retailers such as the "Today" exhibit, The Denver Article claimed.
The group — composed of four Black present-day and previous learners at Dr. Martin Luther King Jr. Early University — sued Denver General public Colleges in federal courtroom on Monday. The district filed three trademark purposes, which includes 1 condition application and two federal applications, for the title, according to the lawsuit.
A Colorado trademark registration referenced in reporting by Chalkbeat Colorado reveals the district explained the series as "offering details about inequities in the educational method [and] delivering methods for implementing, enhancing, [and] sustaining fairness."
The lawsuit explained an irony in the district's hard work to trademark the name.
"The irony of DPS's makes an attempt … is that DPS has for a long time fallen way quick on Black heritage, racial justice and schooling all-around these critical difficulties," the lawsuit stated. "That their newly uncovered and drastically tardy desire to address racial issues experienced to appear in this form is a unhappy commentary on the condition of DPS."
A spokesperson for Denver General public Schools explained to HuffPost it would not present remark due to the pending litigation.
District Deputy Superintendent Anthony Smith achieved with pupils and their parents in an work to "coerce and bully" them into saying the district owned the trademark, according to the lawsuit.
"Notably, it is your clients who are liable for trademark infringement," the district's attorney claimed in a letter to the students' lawyer.
Chalkbeat claimed that an attorney for the district despatched a letter in August to former principal Kimberly Grayson, who was concerned in the podcast's generation, regarding her registration of a small business named "Know Justice, Know Peace: The Get LLC."
The letter, which Chalkbeat explained it received through a community data ask for, explained the identify belonged to Denver Community Educational facilities and explained the podcast as manufactured with district equipment on its residence.
Grayson mentioned in an e-mail to district team received by Chalkbeat that she registered the enterprise for the reason that she had left the university and the students wished to document the podcast independently.
She wrote that the district was contradicting by itself for expressing its stance on fairness though also stating it "OWNS four Black young ladies' graphic, voice, and information," in accordance to Chalkbeat.